A big thank you to the team at Unblock-Us is for offering our guests their first month of Smart DNS service for just 99 cents.  That's about as close to free as you can get.  The normal cost of Unblock Us is $4.99 a month so you'll save 80% off during the promotion.  The Unblock-Us team doesn't use coupon codes. Instead they have given us a special link to share for the discount.  Visit our Unblock Us 99 Cent Promo page to enjoy 80% off your first month.  Unblock hundreds of channels around the world.
After the first month, Unblock Us costs $4.99 a month which is right in line with other leading Smart DNS services.  In addition to monthly payments, you can select to pay annually and save $10 a year.  Unblock Us is currently offering a year of unlimited service for $49.90.  If you plan to unblock channels in the months to come then I recommend signing up for the $0.99 promotion and switching over to annual billing after the promotion ends.  That way you can enjoy 80% off the first month and $10 off a year thereafter.  That provides the best savings.
Once again you won't need any coupon or promo code to take advantage of the Unblock-Us discount. Click on the image below to visit our Unblock-Us special page. You'll notice the prices are discounted as shown below.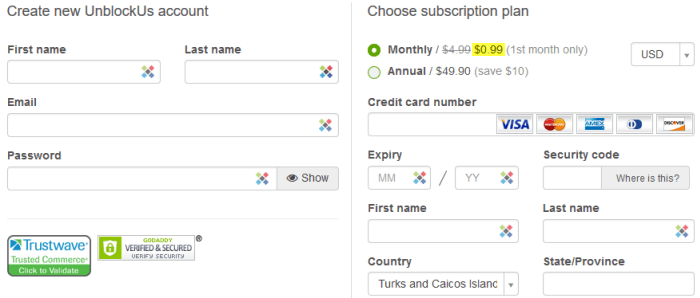 Unblock-Us offers all new members a 7 day money back guarantee so you have nothing to risk when you join. It is very unlikely you'll need to cancel but it's good to know you can if any issues come up in the first week. I've used Unblock-Us from home and while traveling. The service is fast and reliable. It will help you unblock sites around the world.
What to Expect From Unblock-Us
It helps to know what you can expect from a service like Unblock-Us.  Smart DNS is a great solution for those who want to unblock access to content in other countries.  For example if you want to watch Netflix or Hulu from outside the United States then Unblock-Us is a great solution.  The same is true for watching BBC iPlayer from outside the UK.  Along with hundreds of other channels.  Read my Unblock-Us review to learn more.
If you need the extra layer of privacy protection offered by encrypting your connection then I would recommend a VPN service.  OverPlay offers both VPN and Smart DNS which makes them a good choice.  The downside of VPN is that the encryption can slow down your connection.  That's why we recommend Smart DNS for anyone who doesn't need the online privacy and anonymity of a VPN connection.
Unblock-Us Supports a Wide Range of Devices
You can use Unblock-Us to access content on a wide range of devices.  The service isn't just for Windows or Mac users.  You can use it on your phone, tablet, game console, Smart TV and media player.  If that doesn't cover a device in your home you can also set up a router to send all your traffic through the service.
Here's a list of supported devices:
Computer – Mac OS X, Windows 8, Windows 7, Windows Vista, Windows XP
Game Console – Playstation 4, Playstation 3, XBOX One, XBOX 360, PS Vita, Wii, Wii U
Smart TV – Sony TV and players, Panasonic VIERA, Samsung TV and players, LG Smart TV
Media Player – Apple TV, Roku, Google TV, Boxee Box, WD TV Live devices
Phone & Tablet – iPhone, iPod, iPad, Android, Amazon Kindle
Router – Airport Extreme, Linksys / Cisco, D-Link, Netgear, Bell, 2Wire, Siemens, Actiontec, TP-Link
Unblock-Us includes set up guides for every device listed above.  If you have a device outside of the list you can follow their instructions to try and set it up as well.  The key is being able to change the DNS settings.  If you run into an old device that runs through your network but doesn't have the ability to set the DNS you can configure it to run through your router.
Visit our Unblock Us 99 Cent Promo page to sign up and save 80% off the first month of unlimited Smart DNS access.  I think you'll be quite pleased with the service.  Follow us @SmartDNSFan for more trials and special offers.